We are in the midst of a U.S. shale revolution: advancements in shale oil and gas extraction techniques have led to greater natural gas production levels and a renewed demand for natural gas in industrial and power applications. Because of the increased level of competition in the industry, process efficiency is paramount. Bringing natural gas to market cost effectively hinges on the optimal design and operation of the natural gas sweetening process.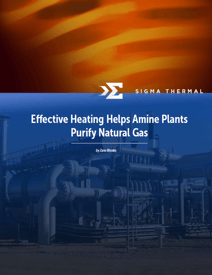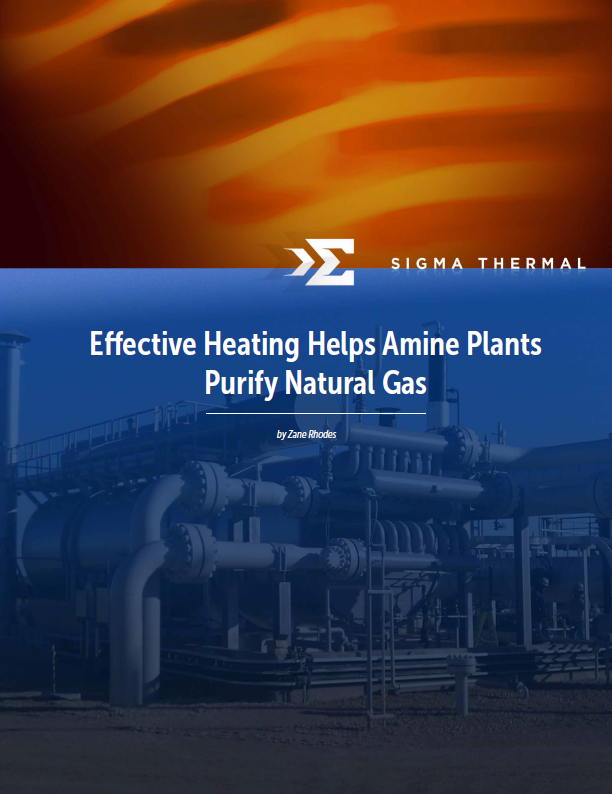 Natural gas produced from reserves in almost never pure; rather, it contains acid gases such as carbon dioxide and hydrogen sulfide. One way to remove these impurities is amine gas treatment. An amine plant (also known as a sweetening plant) is used to remove the carbon dioxide and hydrogen sulfide from the gas solution so that pure natural gas can be efficiently transported to end users via pipeline.
Our latest white paper, Effective Heating Helps Amine Plants Purify Natural Gas, describes how to improve the natural gas purification process with effective heating. It also reviews the optimal conditions and system settings for controlling the amine regeneration temperature and optimizing the efficiency of the process.
The process works like this: the natural gas mixture and amine are combined in an absorber, where the carbon dioxide and hydrogen sulfide are removed. Pure natural gas exits from the top of the vessel and the amine is sent to a regeneration system (consisting of a still and a boiler) where it is filtered for reuse.
Usually, control and bypass valves are used to maintain a constant flow through the thermal fluid heater in the regeneration process. Moreover, the temperature of the system is typically controlled using overhead temperature measurements in the reboiler. There are a few problems with this standard procedure, which are described in detail in the eBook. If these problems are not addressed in the design of the control scheme, the process will not run optimally and the control systems could destabilize.
Using thermal oil as an indirect heat source can significantly increase the life of the amine solution and increase process efficiency. Typically, system operators manually set the flow of thermal oil through the reboiler. This is a convenient solution that prevents any need for frequent fine-tuning, but this conservative approach wastes energy. The eBook discusses the thermal fluid system specifications required to optimize the operation of amine plants.
Sigma Thermal has a long history of providing highly engineered process heating systems and fine-tuning services for existing systems. To learn more about Sigma Thermal's expertise with amine reboilers, visit our website.
Download your free copy of the full eBook here or click on the button below.